The one person in my life who has inspired me the most I would have to say is my grandmother. I am who I am today because of her.
I had the honor of being her granddaughter and share an extraordinary bond for 29 years of my life.
She was a strong, selfless, loving woman. My grandmother was beautiful in every way and had this amazing glow about her. She was never without a smile on her face. She never spoke badly about anyone. She was always so kind and sweet, and anyone who met her and knew her adored her.
She was a mother to 12 children, a wife to a dedicated, hardworking family man, and the most amazing grandmother to over 20 grandchildren.
For me, she wasn't just a grandmother. She helped raise me, care for me, love me, and I can't remember a time when she wasn't there. Every single family function, birthday party, and graduation, she was there; she was usually the first one there along with my grandfather.
You see, the funny thing about her is she never had much. And she was completely content with that. She never had a license; she never had a 9-5 job; she always had my grandfather to take her wherever she had to go or one of the family members. She raised her 12 children while her husband worked to support and provide for the family. She stayed home with her children and took care of them all, then did the same when grandchildren came. She helped out her children as best she could so that they could work during the day, and the grandchildren had a safe and fun place to stay all day long. It was great for all the grandchildren because we grew up together and are still close to this day.
I was one of the lucky ones to be able to live in her home as a child and witness this amazing woman every day. She cooked, she cleaned, she chased around the grandchildren, took care of the pets, and enjoyed her life to the fullest. She didn't come from money; she didn't need money. All she needed was her family and close friends who lived in the neighborhood on our little dead-end street. Sitting outside under the tree, watching her grandchildren play with a smile. That is how I will forever remember my grandmother.
Unfortunately, my grandmother passed away in 2010, and I wish I had the opportunity to tell her how she made me feel and how much she had inspired me. If she were here today, I would say how grateful I am for her and how much of a role model she was to me. I live each day with her on my mind, and I hope to be as wonderful and loving to others as she had always been.
She had this way about her whenever you were in her presence you felt special. She made you feel like you were the only one in the room.
One of the best compliments I receive is that I am like her. I hear it quite often; I enjoy many of the same things she did: cleaning, being a mother to my two boys, and I am very much family-oriented. I genuinely believe my positive qualities came from watching her. She even left an impression on my oldest child, they had a special bond as well, and he has her name tattooed on his arm to remember her forever.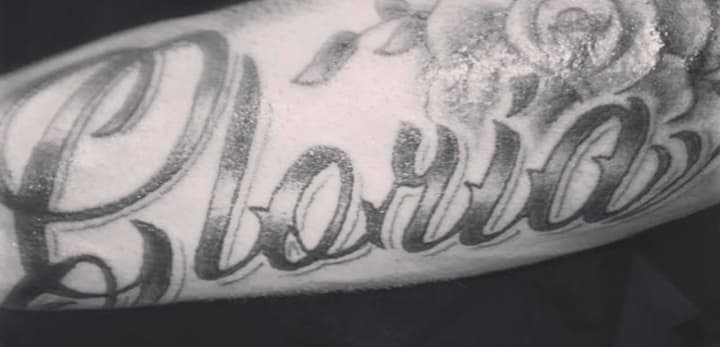 Gloria was her name, and although she is not here with us today, she will forever be apart of our family.
I will remember her beautiful smile, warm heart, and how she always made me feel loved, special, and important.
I am so lucky to have had her in my life for as long as I did. I am proud to be her granddaughter and I can only hope she is looking down at me, smiling because the woman I am today is all because of her.